Many industries already leverage the potential of synthetic data. For example, financial institutions use synthetic data to generate reliable market data for algorithmic trading and risk analysis, while healthcare providers use it to analyze patient data without compromising sensitive patient information.
Synthetic data for insurance companies
Insurance companies struggle to find and access high-quality datasets for predictive modeling, pricing analysis, and risk assessment. Synthetic data helps insurance providers simulate real-world datasets and improve their predictive capabilities, allowing them to make more accurate risk assessments and price insurance policies more effectively.
In addition to improving their predictive capabilities, synthetic data helps insurance companies optimize internal workflows, evaluate new products and services, and reduce data collection and management costs. By providing a realistic dataset that mimics real-world data, synthetic datasets reduce the need to collect and store large volumes of real data while also improving the efficiency and accuracy of their models.
Use cases of synthetic data in the insurance sphere include the following:
Reinventing risk assessment
Risk assessment lies at the heart of the insurance industry, driving critical decisions that determine premiums, coverage, and overall business strategies. However, traditional risk assessment methods often fall short of capturing the complexities of the modern world.
Unlike conventional data collection, limited by historical data or specific demographics, synthetic data is tailored to include various risk factors and demographic variables. This enables insurers to make more accurate risk predictions and better understand potential outcomes.
Another significant advantage of synthetic data in risk assessment is its ability to account for extreme or rare events. In the real world, certain events may occur infrequently but have a significant impact when they do. With synthetic data, insurers simulate these rare occurrences and assess their potential consequences, allowing them to develop more robust risk models.
Reshaping claims processing
Claims processing is another critical function for insurance companies, as it directly impacts customer satisfaction and operational efficiency. Traditionally, claims processing has been a labor-intensive and time-consuming process, often prone to errors and delays.
One of the key benefits of using synthetic data in claims processing is the ability to create realistic and diverse datasets that represent various types of claims. It allows insurers to simulate different scenarios, from routine claims to complex and rare events. Additionally, it accelerates the claims processing timeline, leading to faster and more efficient service for policyholders.
Detecting fraud deception
If anything results in substantial financial losses and damage to an insurer's reputation, it is fraud. Detecting and preventing fraud requires advanced techniques and robust algorithms, exactly what synthetic data provides.
It offers a unique advantage in fraud detection by allowing insurers to create realistic and diverse fraud scenarios. Fraudsters continuously evolve their tactics to evade detection, making it challenging for traditional fraud detection methods to keep up.
Another crucial advantage of using synthetic data for fraud detection goes back again to its ability to safeguard customer privacy. Fraud detection algorithms require access to sensitive data, making privacy protection a significant concern. Synthetic data provides a privacy-compliant solution by generating data containing no customer information, ensuring individual privacy is upheld throughout the fraud detection process.
Software testing with synthetic data
Using personal data in development and testing environments has become a significant concern, especially in light of stringent privacy regulations like GDPR, CPRA, and ISO 27001, including its newest version from 2022. In the past, developers often used real customer data to test new features and identify bugs. However, with more stringent privacy regulations, this leads to significant privacy risks.
Another issue worth mentioning when discussing software testing is the challenges associated with hiring and retaining technical talent. According to a 2023 Gartner survey of software engineering leaders, talent hiring, development, and retention are the top challenges they currently face.
This emphasizes the importance of improving test data management (TDM) practices to alleviate the burden on product teams and enhance software testing processes. Synthetic data offers a new approach to TDM, allowing insurance companies to avoid the challenges of utilizing production data for testing purposes.
Embracing inclusivity: Combating bias
As data-driven decision-making becomes increasingly prevalent, the insurance industry is less of a stranger to discrimination. Exclusionary underwriting practices and bias in data-driven applications can lead to unfavorable outcomes for specific groups.
Bias in AI algorithms has far-reaching implications for insurers and their customers, leading to unfair treatment and higher premiums for certain customer groups and inadequate coverage for others. Unlike real-world data, synthetic data is artificially generated with precision and tailored to include diverse demographics, ensuring fair and accurate representations of various customer groups.
Synthetic data in banking and finance companies
Banks and financial institutions face various challenges using real-world data in their operations. Some of the biggest issues they face include the high cost of data collection and management, the limited availability of high-quality datasets, and regulatory risks around data privacy.
If we add growing cybersecurity concerns, money laundering, and restricted access to transaction data to the mix, banks and financial institutions face significant challenges with using real-world data in their operations.
However, synthetic data is changing the game for financial institutions by offering a solution to overcome usage limitations, privacy concerns, and security risks. Synthetic data provides realistic datasets that allow organizations to train machine learning models, evaluate new products and services, and improve operations without exposing sensitive customer information.
The use cases of synthetic data are extensive across various finance domains, including: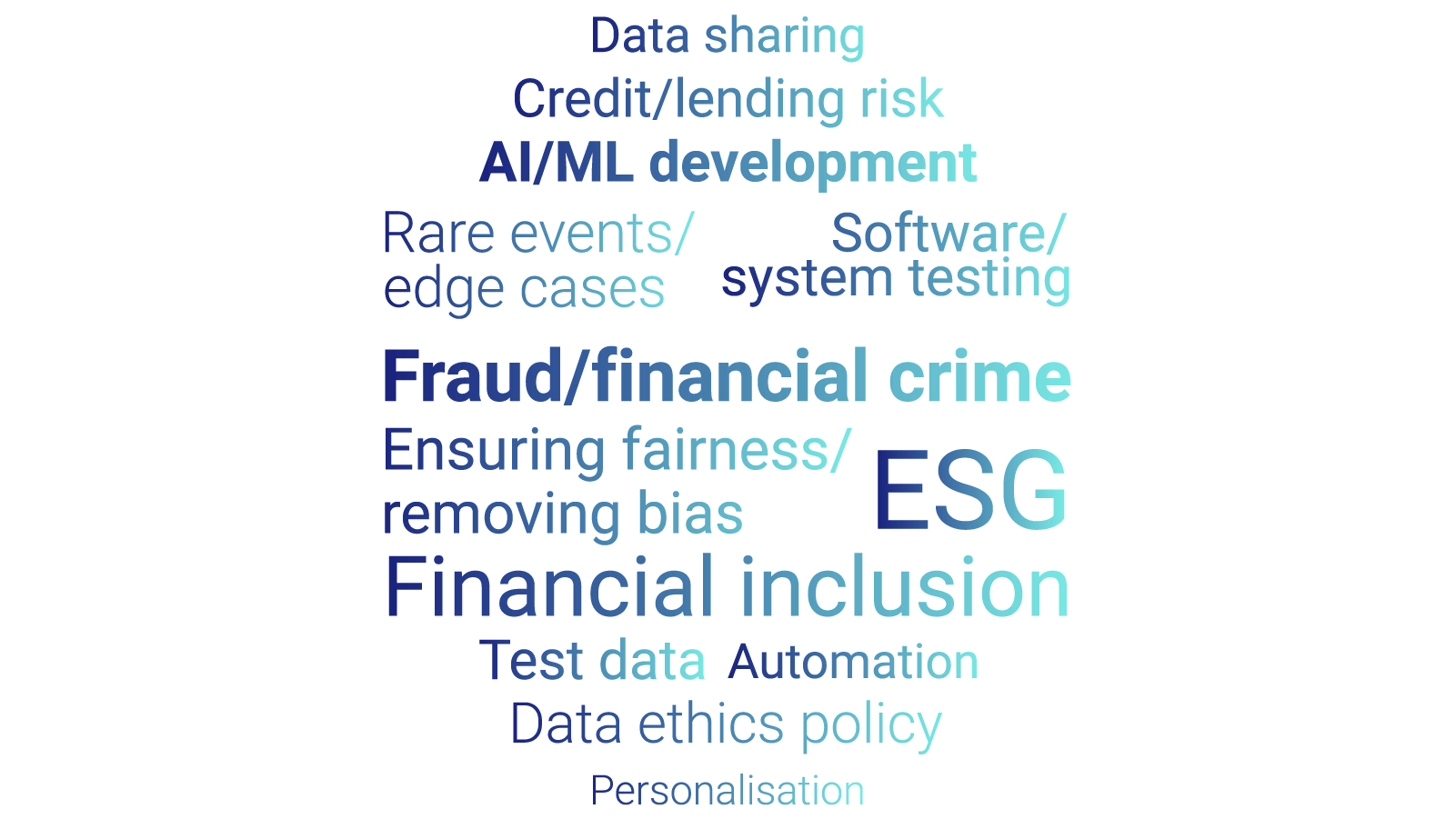 Anti-money laundering (AML)
Money laundering is a significant concern for financial institutions, and AML models play a critical role in detecting suspicious activity. Synthetic data generates large sets of synthetic transactions, enabling organizations to train and test their AML models more accurately. It helps identify potential accounts, transactions, payments, and withdrawals or purchases, allowing institutions to hone their AML models and stay ahead of new criminal tactics.
Fraud detection and risk management
By generating synthetic data that mimics real-world fraud patterns, institutions improve their fraud detection models and reduce the number of false positives. Synthetic data helps banks simulate different risk scenarios to fine-tune their risk management strategies and ensure they are operating at optimal levels.
Data bias reduction
Data bias is one of the challenges of using real-world data, leading to models that perpetuate this bias. Synthetic data helps reduce the risk of data being used to perpetuate prejudices by creating datasets more representative of the entire population, including underrepresented groups.
Credit scoring and loan origination
Synthetic data generates digital twins of customers and simulates their credit scores, enabling lenders to make more accurate loan origination decisions. By simulating a broad range of scenarios and borrower characteristics and behaviors, institutions will better understand the creditworthiness of their clients, leading to more accurate credit decisions and better risk management.
Portfolio optimization
Portfolio optimization is the process of selecting the optimal mix of investments to achieve a specific financial objective. Synthetic data helps institutions generate vast amounts of data on different investment scenarios and evaluate the performance of various portfolios. This helps them identify the most profitable and efficient portfolios, leading to better returns for their clients.
Stress testing and scenario analysis
Synthetic financial data is especially useful for stress testing and scenario analysis. This involves creating hypothetical scenarios and simulating how a portfolio or financial instrument would perform under those conditions. Synthetic data enables institutions to generate a diverse range of scenarios that are difficult or impossible to obtain from real-world data, allowing them to test the robustness of their models and prepare for a range of potential market conditions.
Synthetic data in healthcare and pharma
To improve research and development workflows, healthcare organizations rely on large-scale datasets to create personalized medicine, improve drug discovery capabilities, and perform predictive analytics. However, due to privacy regulations and data ownership concerns, researchers struggle to access accurate datasets for running clinical trials, developing new medical treatments, and improving patient outcomes.
Synthetic data offers a compelling solution to these challenges, allowing healthcare and pharma companies to create realistic datasets to train and evaluate machine learning models without compromising the confidentiality of patient information. It provides a fast and cost-effective way to model real-world data and optimize workflows while minimizing risk and maintaining compliance with privacy regulations.
In the healthcare and pharma industries, various data types are generated using synthetic data generation techniques. Image data, such as medical imaging scans, has been at the forefront of medical advancements, enabling more accurate diagnoses and AI-powered surgical guidance systems.

However, the potential of artificial intelligence extends beyond image analysis. While they have been essential for medical advancements, other data types, such as tabular healthcare data (electronic health records, lab results, etc.), also hold great value for AI applications in healthcare.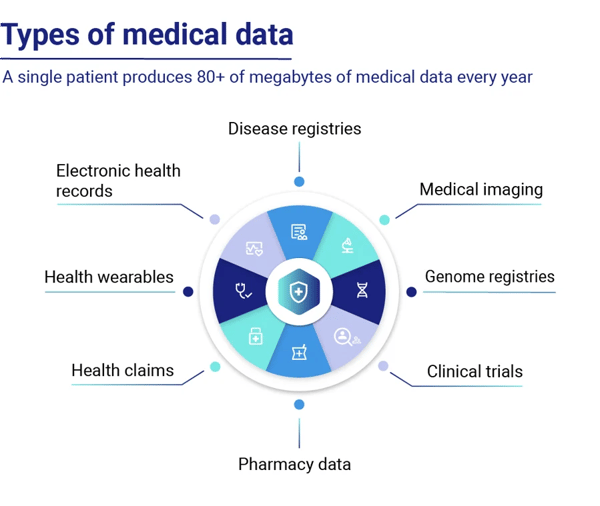 Source: Huesch, D., and Mosher, T. J. (2017). Using It or Losing It? The Case for Data Scientists Inside Health Care. NeJM Catalyst. Available online at: https://catalyst.nejm.org/case-data-scientists-inside-health-care/